Some Commonly Asked Questions About
How to Own an IV Infusion Business with Onus iV
Why should I franchise?
Starting any new business can feel like climbing a mountain. There are many routes to navigate and pitfalls to avoid, and like any successful expedition, you'll want to identify the most efficient operating procedures to avoid wasting time and money; from finding the best suppliers, to fostering a trusted team, there's a lot at stake. As industry veterans, we've seen the retail IV therapy business change exponentially, both in terms of market growth and regulation, especially on a state-by-state level. When you join us as an Onus iV franchisee, you're getting the benefit of almost a decade of experience in the industry and multiple locations successfully opened, managed and operated with consistency in mind. Funding, operating and owning a business is truly a mountain of responsibility; use our experience, much like a sherpa, to help prepare for your best possible ascent!
Is this a safe industry?
Vitamin IV therapy has been in use since the early 1950's, much to the credit of Dr. John Myers (of the eponymously named "Myer's Cocktail" or "JMC") in use across the United States and beyond. Practiced for decades in hospital, clinic and military settings, IV therapy has been proven itself as a vital tool for the maintenance of health and wellness. At Onus, we carry out this therapeutic practice with strict ER-protocols, hiring only properly licensed ER medical professionals who are practiced in the delivery of iV drips to patients in an emergent setting. All state and federal  regulations are routinely monitored to our practice in compliance with federal and state regulations, including USP 797 and DORA regulation. With our entire practice under the direction of a board-certified ER Medical director, we have set out to create one of the most approachable and safe iV therapy brands available to franchise in the United States (and one day, beyond!)
What is the initial investment required?
The Initial Franchise Fee is $40,000.00. The estimated required initial investment ranges from $195,730.00 to $296,330.00 which includes the Franchise Fee.
How long does store development take?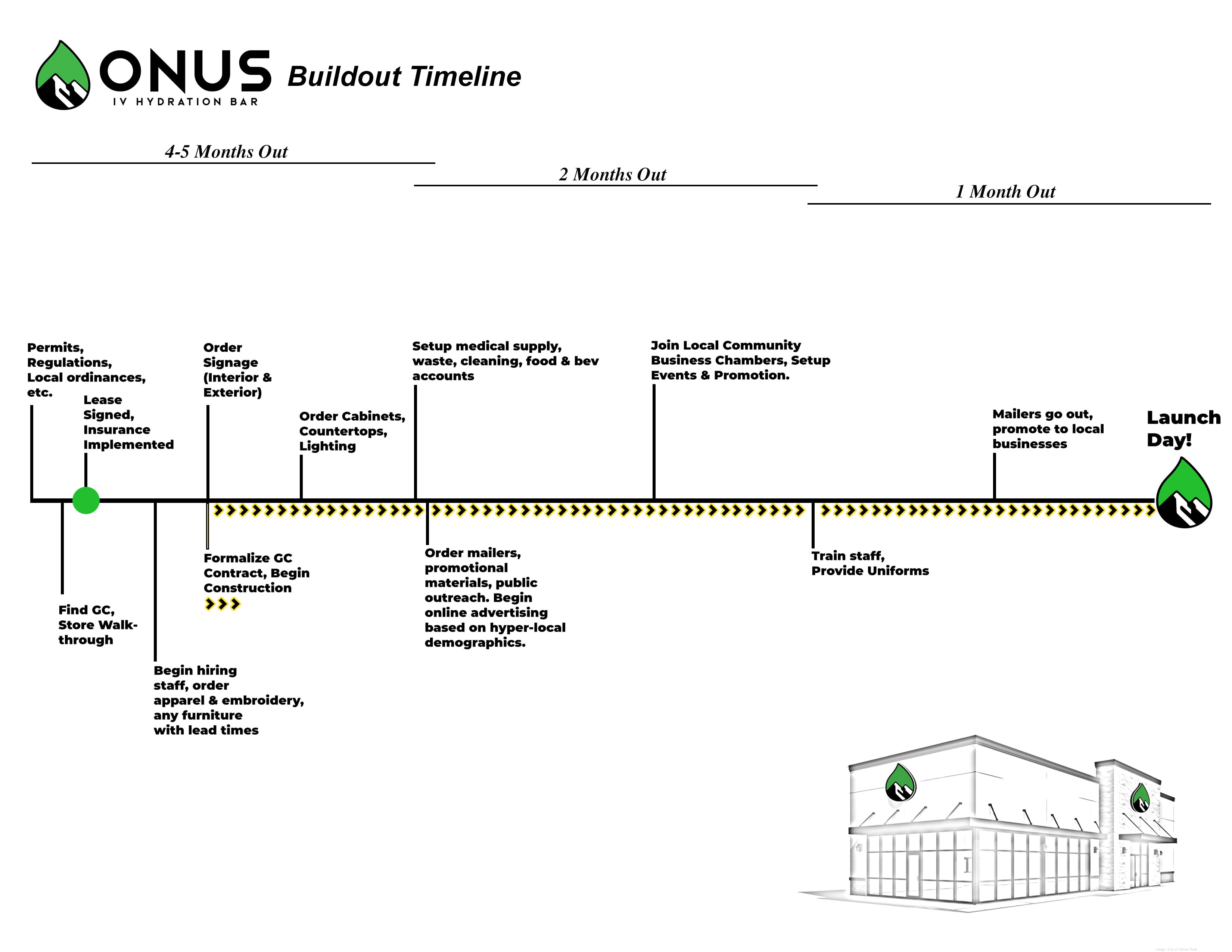 What licensing is required? Do I need to be a medical professional?
Onus iV franchisees don't need to have experience in healthcare themselves to be considered. However, this is an excellent career opportunity for those who are burned out on a hospital or clinical career. Onus will help you identify the requirements for your state as every state has different medical requirements. We also show you how to hire the right medical team that meets the highest medical standards and ER protocols.  At the end of the day, clients are looking for a great space to relax and recharge for their everyday adventures – we aim to help you provide that space with consistency and profitability!
Do you have lenders available?
Yes, we work with SBA lenders and can help you navigate the business loan process.
Do I need to be an owner operator?
We want to work with franchisees from all backgrounds and help you create a life that benefits you, your staff and your clientele. Whether you already have a career and are looking to invest in a business to support you in retirement or you're looking for a new profession, Onus IV can help you achieve your goals and help you find more freedom and life balance. Being hands on at least part of the time is important to maintaining consistency and quality, but there is a level of flexibility Onus iV provides that is unmatched in many careers outside of healthcare. 
We'll help find the right staff to keep your store running smoothly and give you peace of mind, even if you don't have a medical background. Our comprehensive and on-going training programs are designed for both you and your staff to incorporate with ease.  As the franchise owner, you can decide for yourself which tasks you'd like to handle personally and which tasks you'd like to delegate to your employees. Owning an Onus iV franchise makes it possible to enjoy more time with your family, take a bike ride over your lunch hour, or simply take a personal day without needing to work through a human resources department. In short, owning your own IV therapy franchise could be a great way to achieve a level of career flexibility that allows you to get back to living #yourbestdays!
How do I find my team?
As an Onus iV franchisee, you will receive the support you need in team recruitment, training, management and retention. As part of training, we will identify multiple recruitment channels, how to thoroughly screen candidates, provide the proper training to give your staff the skills that they need to be successful and create a positive work environment. We take our work seriously, but believe that the life you make should be fun along the way too 😉
How do I find my location?
Site selection is a crucial component of the launch process and one that Onus iV has honed over multiple store build outs. We use targeted zip-code demographics, psychographics and geography to help you identify a location that offers high visibility, accessibility and the right target audience. At the end of the day, your new store will need to fit into the routines of your ideal target audience; that's what we're here to help you discover, design and implement!
What kind of support will I receive?
One of the most important facets of the Onus iV franchise program is the on-going support we provide. We offer the most comprehensive training program in the iV industry including continuing in-store training. Open and consistent communication in the form of bi-weekly check-ins, strategy and marketing sessions will be an integral part of the relationship. As part of the Onus family, you will have access to everything we have in terms of resources and support. "If you want to go quickly go alone but if you want to go far, go together!"